Abstract
It is well-known that education, and in particular, university education, has declined in its performance over the past 50 years. This essay looks specifically at changes in the university functions of merit-based decisions, academic freedom, curriculum, scholarship and culture. In order to evaluate these changes with specific evidence, Harvard University is used as the example, both because it is well known and because there is hard statistical data available over the years on the categories of student enrollment, faculty and the administrative make-up and decisions and the corporation make-up and decisions.

The imposition of discrimination and the decline of merit-based admissions was the beginning, but only the beginning. The main thrust of this investigation is to determine what has happened to the rest of academic first principles as a result, to academic freedom, scholarship and student/faculty culture. These are the principles addressed by the 1966 AAUP's Statement on Academic Freedom and the 1988 European Union's Magna Charta Universitatum on independence from political authority. To determine this progression requires decades of observation.

The results of this investigation between 1969 and 2019 is that all of these university functions, in succession, have been severely compromised, and that the token Asian student law suit that was heard against Harvard in 2018 has had no effect on this progression of social justice. A beginning solution would be a definitive ruling from the U.S. Supreme Court on the appeal of the Asian student law suit. Even the district judge, in finding against the Asian student suit, stated that the "disparities in ratings" for Asian students and for white students were similar. Then, a discrimination law suit filed by a major white male group based upon that determination could force the correction of these policies across the board.
Introduction
This is the 50th anniversary of the strikes, building occupations, threats and demands at universities, and Harvard Magazine has published a review of many aspects of it in their March/April 2019 issue. A more fundamental analysis is in order, addressing the decline in equal treatment, academic freedom, and scholarship. In 1969 higher education was greatly admired, Students for a Democratic Society (SDS) was rising, the military was ridiculed, and soldiers returning from Vietnam were spat upon. Today, the Gallup-polled confidence in higher education is at 48%, down 9% in 2 years, Harvard (and others) are being sued for prejudice in admissions, and Harvard has dropped from the highest ranked university in the country to number 2 or 3, depending on which (diversity-driven) criterion is used. Conversely, the military has had the highest approval of any institution in the country for several years, and "Thank you for your service" towards veterans is commonly heard on the street.
To understand this 50-year change in academia, Harvard University will be investigated, as its official magazine (Harvard Magazine) has revisited the events of 1969 on their 50th anniversary and looked at the succeeding 10 year changes up to 1979. It also reports regularly on the current enrollment, curriculum, research and faculty additions and changes. Harvard Magazine is supported independently from the Harvard University Administration (Rosenberg, Mar-April HM, 2019), which allowed the presentation of credible information, data and insight that made this study easier and more comprehensive in regards to gender and racial-based enrollment, Academic Freedom and Scholarship. It is important to point out that all universities during this time have suffered similar or greater declines in these central academic functions, Brown, Yale and the Ivy League being prime examples.
The March/April 2019 issue of Harvard Magazine, in addition to reproducing their reports of 1969 and 1979, also provided today's look-back by 11 participants in the 1969 events. I am number 12, as my Harvard PhD thesis project at that time was supported by the Office of Naval Research and, therefore, was one of the SDS targets. However, the Harvard Administration treated me well during my Thesis and Post-Doctoral tenure there. That targeting of government-supported research was only a rumor in 1969, until the above reference (HMEditors, 2019) described the actual targets of SDS during the 1969 demonstrations (Widener Library was another). By 1972 SDS was gone, student interests had returned to other causes and the faculty collegiality had mostly returned (Bethel, 1979). However, the Harvard Administration diversity campaign had just begun. In 1969 GSAS Dean J. Peterson Elder, due to demands of the protesters, had summarily increased the black student enrollment from 3 to 28; this began wholesale diversity enrollment, although it was to be slowed by applicant shortage and endowment problems for the next 30 years.
This essay will investigate the transformation at Harvard away from merit-based decision making, academic freedom, scholarship and student civility, as brought about by the actions of its students, administrators, presidents, faculty, and corporation since 1969. These first principles of a university are cited in both the American Association of University Professors' 1966 statement on Academic Freedom (AAUP, 1940/66) and by the European Magna Charta Universitatum, that "research and teaching be morally and intellectually independent of all political authority". The latter was in anticipation of the European Union, and its necessity of separating scholarship from politics (Magna Charta ,1988). The above investigations required decades of observation. 
The time-line for this transformation began with the student actions of 1969, when they forced the administrators and faculty to grant concessions on Black Studies and embrace diversity enrollment. Next, the Harvard presidents from 1969 to 2006 (Pusey, Bok, Rudenstein and Summers) and the Corporation promoted diversity, but remained mostly committed to academic freedom, an academic curriculum and scholarship (the "Student Diversity" era). Then, beginning in 2006, the presidencies of Faust and Bacow imposed diversity into these functions as well (the Social Justice era). Finally, in 2019 the Asian Students lawsuit began and, in spite of this, the Harvard administration ratified their diversity campaign by replacing student counseling with student "coaching", to begin to deal with the resultant student cultural dysfunction (the Neurodiversity era).
Merit-Based Policy
The 1923 Harvard Overseer Non-Discrimination Policy
In 1922 the Jewish freshman student population at Harvard had reached 21%, a threefold increase since 1900. Harvard President Lawrence Lowell proposed a 15% limit in Jewish enrollment to forestall student conflicts and loss of alumni support. This drew an immediate response from Jewish leaders, including Justice Brandeis, calling for admissions based upon merit. Harvard's Jewish student organization, the Menorah Society under Harry Starr, organized student resistance, with the Boston Press in full support. Harvard's Board of Overseers then created a 13-member committee to determine admissions policy. They issued their report in 1923; it repudiated the quota system, restate Harvard's position of "equal opportunity" to all regardless of religion, and upheld the non-discrimination principle. Also, any "novel process of screening" or "covert devices" were rejected, "but agreed that geographic diversity was desirable". To this end Harvard's competitive exam that had favored urban, public school student because of preparations was abandoned in favor of class ranking. This resulted in Jewish student population dropping to 15% by 1931 and then rising to 25% by 1940. Harry Starr remained loyal to Harvard and presided over many generous gifts to his alma mate, including the current Harry Starr Fellowship in Jewish Studies (Seaver, 2018; Feingold, 1992; JVLibr, 2017).
This remained the primarily merit-based admissions policy until 1933, when James Bryant Conant became Harvard President (1933 to 1953). President Conant enhanced the merit basis for admissions in 1935 by requiring all candidates for admissions to take the Scholastic Aptitude Test (SATs), after he helped to develop what became the Educational Testing Service, which was instituted in 1947 (PBS, 2019). President Nathan Pusey (1953 to 1971) furthered the outreach beyond New England private schools to the public schools, using the SATs.
Change in Merit-Based Decision Making
By Administration in Student Enrollment After 1969
The most obvious change during this 50 year period, particularly during the first 35 years, came in the drop in white male enrollment, a drop of 3013 students (- 66%), as shown in figure 1. In visiting Harvard Yard today the first impression is of the scarcity of white men (25%) and the abundance of women (60%). However, due to "institutionalized political correctness" the discrimination against Asian students was pursued in court (Taylor, 2018); "Asian" is easier than "white" and "men". The Asian student enrollment actually increased by 1356 students during this period (23% of total), but was much less than the projected 40% increase under merit-based admissions. The precipitous drop in white men was 3056 students over 50 years, while the white women enrollment, after an increase by President Bok, remained about constant. The increase in enrollment of Blacks was 4300% (989 students), for Hispanics it was 311% (656 students) and for foreign students it was 347% (698 students; Faust, 2018). The enrollment increases for Hispanics, Asians, Foreign born, and Black students came from the total enrollment increase and the drop in white male enrollment (Presidents Report on Harvard College: 1969, 1987, 2005 and 2018). Ron Unz, who ran as a Board of Overseers write-in candidate in 2016, noted, "non-Jewish whites at Harvard are America's most underrepresented population, enrolled at a much lower fraction of their national population than blacks or Hispanics, despite having far higher academic test scores ( Unz, 2019). This is Harvard's Diversity policy. Diversity is a fundamental of the natural world; however, selection is an essential part, unlike in the above corrupted version of it. It is noted that obtaining data from universities on white males and grade averages is difficult.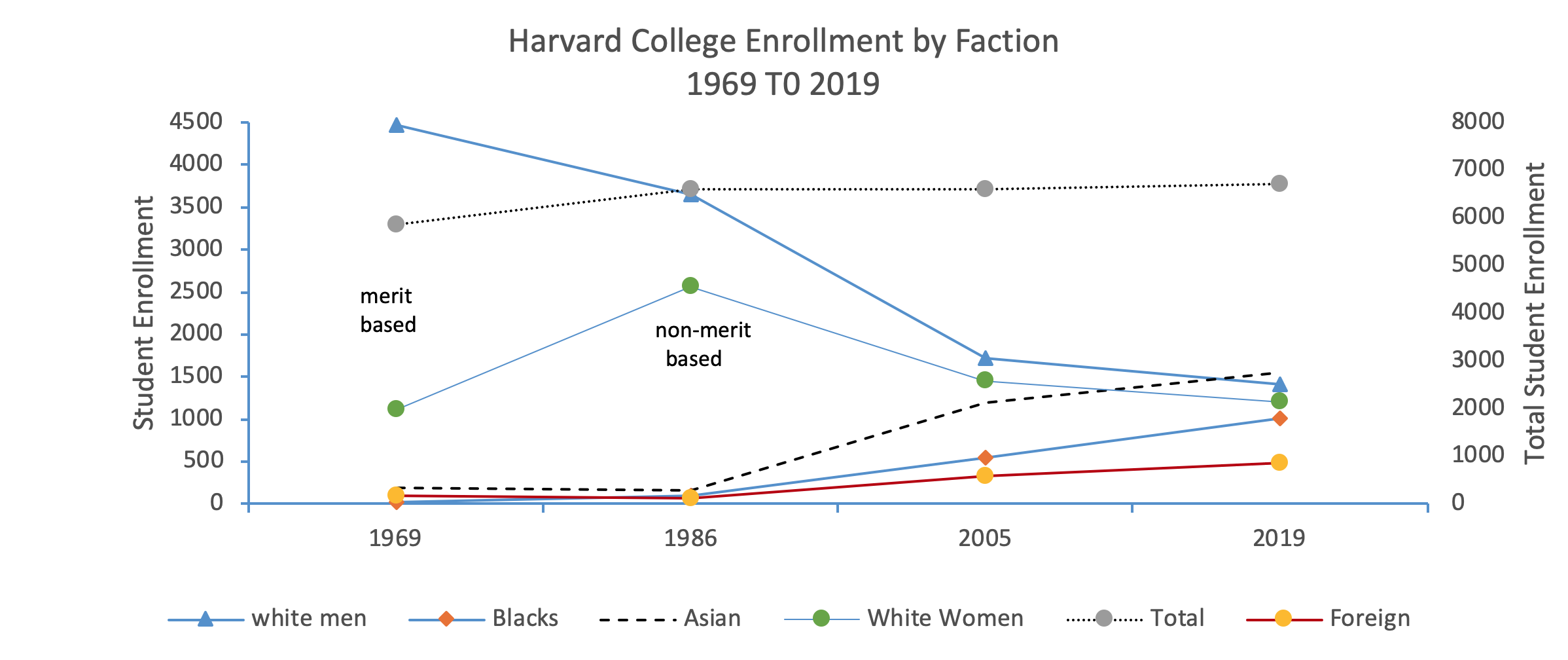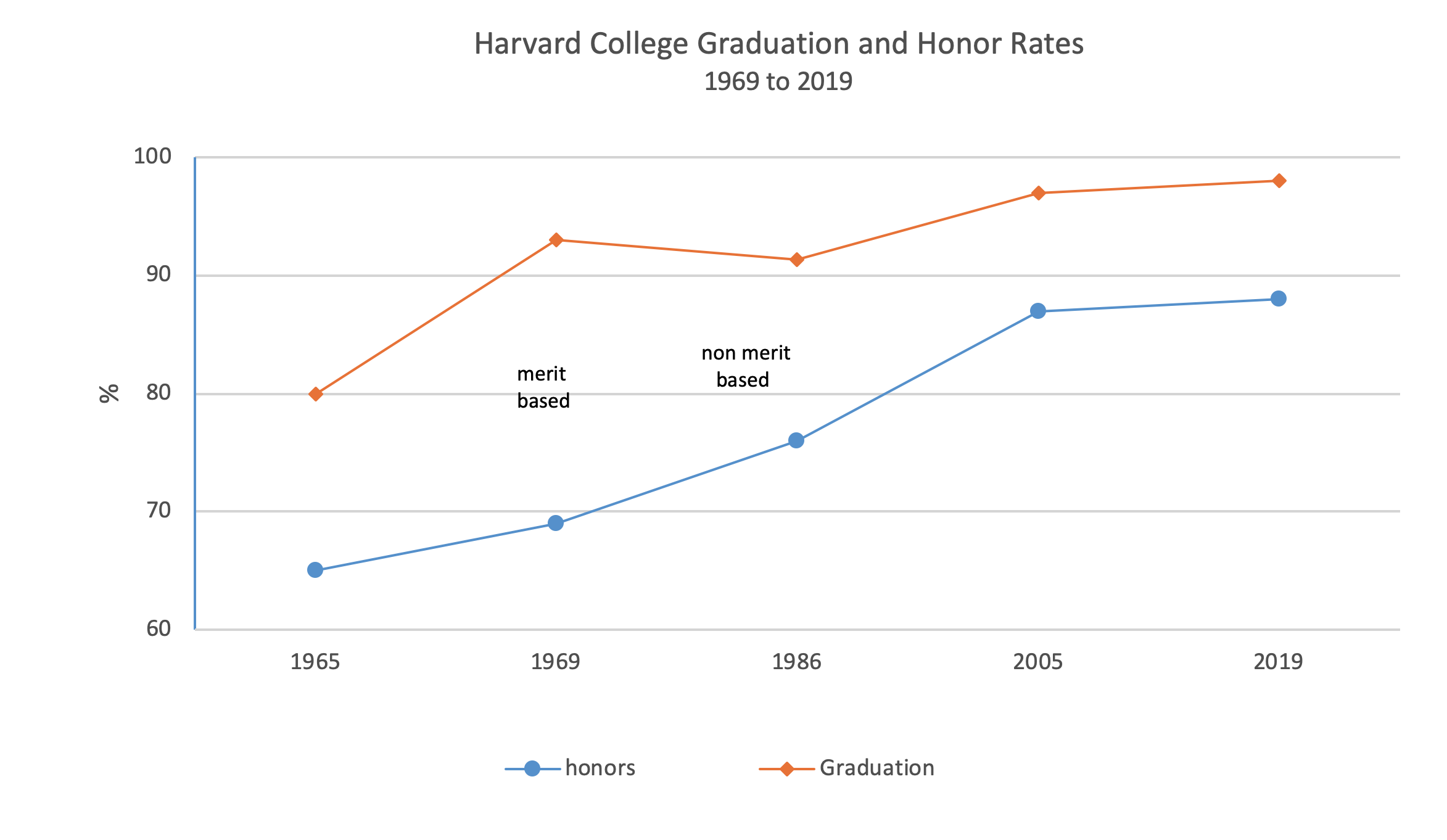 Harvard's average grade was 2.7 in 1969 and 3.63 in 2018 out of 4.0 (Economist, 2014 and Faust Harvard Annual Report, 2018), and the average SAT score for Harvard College in 2018 was 60 points lower than in 1969. The potential public effect of weaker academic ability on grades and graduation rates was countered by grade inflation. This is reflected in the 19% increase in "Honors" status by graduates and the average grade increase from C to A described in figure 2. This actually increased the graduation rates from 93% to 98%, an asset in the new national ranking criterion. Also, the 93% graduation rate of 1969 was inflated. Because of the resultant loss of draft deferment during the Vietnam War, the College Deans were reluctant to disenroll students. In 1965 the graduation and Honors rates were 80% and 65%, respectively, as diversity was not yet a factor. 
Another telling statistic between 1969 and 2005 was the change in the average SAT scores for the several factions of figure 1. The average SAT score for white males increased by "10's of points", that of white females decreased a small amount, and that of Blacks and minorities declined by > 100 points (Presidents Annual Report, 1969 and 2005). This is near proof of discrimination against white male applicants.
Further confirmation of this SAT decline came in the 2019 creation by Harvard College of the Academic Resource Center (ARC), which was created to address the "neurodiverse students who have distinct learning challenges", such as "ADD, ADHD, and Dyslexia" (Revuluri, 2019). The need for the ARC will be discussed in the last (post-Asian lawsuit) section. 
The only college to date to successfully reverse grade inflation was Wellesley College for Women in 2004. Butcher, et al. (2014) provide a thorough, 14-page analysis of the before-and-after consequences of grade deflation in all aspects of Wellesley college life. Of interest here is that the negative effects of grade deflation on Black (but not Latino) student grades were significantly greater than that of the average (-.36 vs -.17 out of 4.0). Blacks also had lower SAT scores, which indicated the correlation between grades and SAT scores. These results are consistent with those of figure 2. 
In response to Harvard's discriminatory admission criterion that brought about the figure 1 results, in 2014 the Students for Fair Admission (SFFA, an Asian American group) filed a lawsuit alleging that Harvard, under their "personal rating " admissions category, discriminated against Asian Americans. In response Harvard Admissions "substantially" reduced the Asian student penalty (Mortara, 2019). Asian American student population increased from 18% to 23%, an increase that came about from white students (Rosenberg, 2019). However, in spite of this "civil rights" reversal by Harvard administration, their rejection of merit increased significantly elsewhere. To see how this happened, in spite of the acknowledged Asian discrimination, will become apparent in the last section on the post-Asian lawsuit.
By Faculty and President
By 2005 the major student enrollment changes had been accomplished, as shown in figure 1. Presidents Bok, Rudenstein and Summers supported "racial and gender diversity", but not at the expense of merit in faculty hiring, although many faculty members objected to their position on this, which led to President Summers' departure in 2005. It was Presidents Faust and Bacow that accelerated the decline of merit-based decision making in faculty selection after 2005. See the next sections on academic freedom and scholarship to understand this change.
Decline in Academic Freedom
By Students
An immediate assault on Academic Freedom came with the student 1969 building occupations and their accompanying threats. One result of these threats was that the Harvard faculty reversed its previous vote and on April 22, 1969 established an Afro-American Studies Department, that included students role in its creation and direction, as well as in hiring and tenure decisions. The Faculty Committee Chairman, Professor Henry Rosovsky, termed this an "Academic Munich", and resigned as committee Chairman (Bethel, 1979). 
However, the student threats to Academic Freedom had (temporarily) subsided by 1973. The "Diversity and Inclusion" by the Administration in student enrollment, shown in figure 1, was not fully accomplished until 2005. The delay was caused by the decline in endowment and student applications, budget deficits and the competition for Black candidates in the late 1970's and 1980's (the "pipeline problem"). Long term and permanent change in Academic Freedom from administration, faculty and corporation came after 2005 under the Presidency of Drew Faust.
By Administration and Faculty
Derek Bok and Neil Rudenstein were the presidents of Harvard from 1971 to 2001. For both, "racial and gender diversity [were] a bedrock concern" (Rosenberg, 2006). However, President Bok (1971 – 1991) in his annual report in January 1974 stated that Harvard was beyond the effects of the recent student turmoil, and that financial deficits, Ph.D. market saturation, community objection to Harvard's growth and Professor-graduate student  conflicts were his main concerns (Bok, 1974). President Rudenstein (1972-2001) also cited financial constraints and deficits as requiring a no-growth policy for the next decade, but affirmed the need to reach out more aggressively to women and minorities given the "pipeline" problem, assessed the compatibility of diversity with freedom of expression, and included statistics that supported the growth shown in figure 1 (Rudenstein, 1993). Lawrence Summers was the president from 2001 to 2006 and shared their general commitment to racial and gender diversity, but in the context of merit-based academic principles. He established "The task forces on women faculty and on women in science and engineering – and the $50 million devoted to implementing their recommendations, under a senior vice provost for faculty development and diversity" (Rosenberg, 2006). He also appointed Evelynn Hammond, Professor of African American Studies as chair of the Task Force on Women Faculty and Professor Barbara Grosz as Chair of the Women in Science and Engineering, both of whom had criticized President Summers attitude towards women faculty (John Harvard Journal, 2005).
In 2005 he had stated he wished "..to know with hard data what the quality of marginal hires are when major diversity efforts are mounted". After years of such efforts, he wondered about "the quality of the people who have been hired". Also, "I think it's very important that it's never seen that we appoint somebody for reasons that are 'diverse'…that could lead to people we hired as excellent, as being seen as compromised" (Summers, 2005). Although these are reasonable questions in assessing a new program's effectiveness, in particular, "objective versus subjective factors in hiring", many faculty members saw it as a lack of commitment to diversity, and strongly criticized him as insensitive.
However, Professor of Comparative Literature Ruth Wisse at the February 15, 2005 faculty meeting characterized these meetings on President Summers as "the show trial to beat all show trials", asking "How much longer will this faculty allow gender politics to diminish this university and the search for knowledge in which we are supposed to be engaged? The damage is becoming incalculable..."(Wisse, 2005). Further, the Harvard Corporation, through its spokesman, Senior Fellow James Houghten, stated in a February 17th letter to the faculty that: "We know him [President Summers] as someone very much determined.. to help Harvard pursue academic excellence in all its many forms.. We are confident of his ability to work constructively with the faculty and others..We fully support him in that effort" (Houghten, 2005). The objections to President Summers January 14th speech occurred even though Professor of Psychology Steven Pinker's research supported the biological basis of aptitudes. Professor Pinker further stated at the March 15th faculty meeting that there was no "defensible principle" behind the statement in the no confidence motion "regretting" President Summer's January talk on aptitudes. "That absence portended a pernicious erosion of scholarly inquiry at every level of the university" (Pinker, 2005). Professor of History Stephan Thernstrom also at the March 15th meeting, stated that ".. academic freedom is on trial here…a vote to censure him for his speech will set the university back by 50 years, to the days of McCarthyism" (Thernstrom, 2005). Nevertheless, on March 15, 2005 the Harvard faculty, by 58%, voted "No Confidence" in President Lawrence Summers. This vote of "No Confidence" led to Summers resignation as Harvard President on February 21, 2006, after a year of "rancor that had emerged" where "I had become a large issue" (Summers, 2006).
By the Corporation
The 2006 replacement of Lawrence Summers as president became the second major rejection of merit and academic freedom at Harvard since enrollment discrimination began in 1969. In 2006 the Harvard Corporation chose Drew Faust, a feminist and the President of the Radcliffe Institute, as the next President of Harvard University. This choice would accelerate the decline in the first principles of a university. In 2007 a student who had occupied Massachusetts Hall in 1969 was chosen for Harvard's Board of Overseers; in a later interview she commented: "It certainly felt like we had really changed things. But looking around today – clearly not enough" (Fisher, 2019). 
That change was coming; the observations by Professors Wisse, Pinker and Thernstrom turned out to be prophetic. In 2019, as will be discussed in the last section on the post-Asian lawsuit, the new FAS Dean Gay pre-empted the faculties of the individual schools in the appointment of new tenured faculty members. This new policy replaced the independence the 9 Harvard schools had long enjoyed, was not vetted ahead of time and brought only a timid inquiry at the subsequent faculty meeting.
Decline in Scholarship
By Faculty and Administration
Traditionally, tenured faculty positions were offered to well-known scholars who had established themselves in other universities. In 2005 the decision was made to hire new assistant professors on a tenure track status, and then grant tenure from this tenure-track cohort within the university (Kirby, 2010). However, with the concerns about merit expressed by President Summers above and tenure itself, the female professor ranks had not grown as much as desired. As a result, in 2010 the "Faculty Development and Diversity" (FDD) Task force under Vice Provost Judith Singer was invigorated, retirement incentives were offered to 180 senior faculty members,  the tenure-track review process was no longer blind and child-care services were provided (Editors, HM, 2010). The FDD set policy with this invocation: "Beginning with a broad and deep talent pool and proactive outreach to candidates", make the assessment process inclusive. Proactive outreach included the use of 23 national organizations that promoted women and minority applicants, most notably the Higher Education Recruitment Consortium (HERC). The FDD also established "Best Practice for Conducting Faculty Searches", a 27-page document that explained the "Implicit Bias" doctrine, and provided a list of 22 questions that "..a search committee, in both spirit and letter…direct or indirect may not ask". Such questions as citizenship, type of military discharge and criminal record are included in this list (FDD, 2019). Vice Provost Singer of FDD, when asked by the Harvard Magazine Editors, "Does Harvard sacrifice quality in making professorial appointments this way", replied "peer institutions have managed to do this for much longer than we have", while touting the quality of their faculties (Editors, HM, 2010). 
In 2016 President Faust established the Task Force on Inclusion and Belonging, which released its report on March 17, 2018. The report identified several challenges to inclusion on campus. The most significant were:  (a) that "Harvard's increasing diversity has created conflict in some who believe academic freedom and inclusion are incompatible" and (b) that "Harvard hasn't worked out ..its own contribution to past social 
inequities. We will need an honest institutional history". The Task Force's major recommendations were: (1) adopt more inclusive symbols and common spaces, such as dropping the last line of Harvard's alma mater that included the word "Puritan" (that has been done), (2) create two university-wide research centers, one on identity, politics and culture, (3) hire more diverse staff, and (4) measure the University's progress towards inclusion on a triennial basis. President Faust responded to this report by designating "$10 million "to fund our..belonging and inclusion efforts". She also asked that the art in the new Smith Campus Center "reflect the heterogeneity of today's Harvard" (Bolotnikova, 2018).
On August 15, 2018, soon after assuming office the new Harvard President Lawrence Bacow appointed Claudine Gay as dean of the Faculty of Arts and Sciences. Her stated challenges were "inequality, immigration, climate change and diversity". She also said that the Task Force on Inclusion and Belonging (above) was "a call to action" for the leaders of Harvard's schools, who must figure out "how to make that vision real" (Rosenberg, 2018).
By the Corporation
In 2011 the Harvard Corporation voted to expand the Board of Overseers from 7 to 13 members under the encouragement of President Faust, and set their term limits at 6 years (previously it was indefinite). This was the first reform since 1651, and its stated purpose was to "improve access to diverse views" and to provide "a broad range of candidates" (Harvard Corp., 2011). President Faust now had greater control of the Corporation.
In the 2016 election for Overseers five private petition candidates ran to challenge Harvard's admissions preference policy. With a heavy use of social media, including the Southern Poverty Law Center, all the petition candidates were defeated. A year later the law suit by Asian candidates on this issue went to trial in court. In response to the challenge by the private petition candidates, in 2016 the Board of Overseers revised the rules for petition candidates: the signature requirement was increased by a factor of 10, eligibility was restricted to those with a Harvard degree and voting online was introduced. The leader of the 2016 petition campaign, Ron Unz, responded that his was "the last of the traditional petition drives Harvard will ever see" (Rosenberg, 2016). That path to diversity was now closed.
Post-Asian 2018 Lawsuit: Merit, Academic Freedom, Scholarship, Curriculum and Culture
In 2018 the Students for Fair Admissions (SFFA), an Asian American student group, went to court  because of discrimination against Asian American candidates to Harvard that was based upon a "personal rating" category. It was heavily weighted against Asian American applicants. In her October 1, 2019 ruling upholding Harvard's Diversity admissions program, Judge Allison Burroughs revealing stated, "The disparity in personal ratings between Asian American and other minority groups is considerably larger than between Asian American and white applicants….The Court ..finds that the disparity in personal ratings did not burden Asian Americans applicants significantly more than Harvard's race-conscious policies burdened white applicants" (Bolotnikov, 2019). And no one noticed. This confirms the results presented in figure 1 that the effect of Harvard's Diversity Program was most severe on white men because of the numbers involved and its invisible nature, and supports the remedy of a white male law suit.
 Even before the trial in October 2018 "the Asian penalty [went down] substantially" by the Administration, and Asian American admissions increased (John Harvard, Jan., 2019, pp.17). There was no effect, however, on the white male penalty. The overall march to social justice actually increased after the SFFS suit, and is now immune to traditional civil rights values. Social Justice here is defined as the combined effects of the rejection of merit, of Academic Freedom and of Scholarship.
Merit Decline by Administration
Under President Bacow the only impediment to the faculty reflecting the student transformation in women and minorities was now tenure, and this was being significantly reduced. At the February 2019 Faculty meeting math professor Wilfried Schmid asked FAS Dean Gay why the Math faculty appointments were conducted by her FAS, rather than by the Math department, as had been done traditionally. Dean Gay responded that "this was the first department search conducted in full accord with FAS policies,… and that participants might have to struggle to come to terms with them". Harvard's nine schools had not been informed of the  rejection of the traditional independence they had enjoyed, and six of the nine schools that comprise Harvard University now had minority deans with four being "African-American women" (Rosenberg, HM 2019, pg. 27). 
In regards to tenure-track hiring FDD Director and Senior Vice Provost Judith Singer stated that during the last 4 years 39% of the tenure-track appointments were white men, and 57% of the tenured appointments were women and minorities (Singer, HM 2019, pg.25).
Merit Decline by the President
President Bacow attended the SFFA court proceedings in February 2019 and "left no doubt about his commitment to Harvard's use of race as a plus factor in holistic admissions reviews", lending his personal and presidential support to the University's case (Rosenberg, HM 2019, pg.25).
Academic Freedom Decline by Students
Student rejection of Academic Freedom saw a resurgence in 2019. On April 2nd the "Womxn's Imprisonment" campaign interrupted President Bacow with signs as he addressed the Gender Equity Summit. Then, on April 4th thirty students from the "Divest in Fossil Fuels" campaign blocked President Bacow and Kennedy School Dean Douglas Elmendorf from addressing the audience on the issues of Social Mobility and Inequality at the Kennedy School. Unlike the 1969 occupation of the presidential offices in Massachusetts Hall, President Bacow voluntarily ended the meeting and moved it to another location. He stated that he would be "happy to meet with them again" (Gibson, 2019), and took no disciplinary action.
Academic Freedom Decline by the Administration
In late 2018 a proposals from Dean Gay's Task Force on Inclusion and Belonging re-interpreted Academic Freedom vs speech limitation. They stated, if a faction did not feel "included", then they have lost their Academic Freedom and this would justify restricting speech that caused this lack of inclusion (Bolotnikov, 2018). This reasoning has also been pursued by other advocacy groups outside of Harvard.
Curriculum and Scholarship Decline by Faculty
The new faculty hiring policies are having significant results. A look at 9 of the faculty members hired on a tenure track during 2019 indicated that the faculty is repeating the transformation that occurred in student admissions. Only one of the nine is a white male (from Germany), and 6 of the nine have prior listed research in the social justice category. Specifically, their research was:  (1) "Implicit Bias in Investing" (Business School); (2) "Civil Rights and Economic Justice" (Law School); (3) "Gender Stereotyping" (Kennedy School); (4) "Social Inequality and Stratification" (Sociology); (5) "Diversity of the Doubly-Disadvantaged Poor" (School of Education); and (6) "Race, Gender and Sexuality" (Women Studies) (Singer, FDD, 2019). 
In the winter 2019 GSAS "Colloquy" magazine, the new Dean of the Harvard Graduate School of Arts and Sciences, Emma Dench, announced that with "multiple religious beliefs and gender identities.. for the first time in Harvard history female Ph.D. students outnumber male", an ironic declaration given their "multiple gender identities". The GSAS Dean further stated, "We are expanding our efforts around inclusion..", including research and thesis topics such as, "Memorials to Violence in Baltimore" (African American Studies), "Immigrant Doctors Project through Social Media" (Economics), and "Race and Gender Theory of Social Construction" (Philosophy) (Densch, 2019). The Harvard Divinity School also participates in the social justice theme with April 2019 lectures entitled, "Role of Repentance in Politics: Reparations for Slavery" and "Queer Callings: Labels, Identities and Vacations" (Professor Mark Jordan, Lowell Lecture, April 2019). Finally, the 2018 appointment of Claudine Gay as the "Inequality, Immigration and Diversity" FAS Dean produced significant results in June 2019.  She announced that "the Faculty of Arts and Sciences will hire a cluster of faculty in the area of ethnicity, indigeneity and migration during the upcoming academic year" (Snibbe, 2019). Gay stated that this "provides a valuable lens for understanding contemporary American Society (Snibbe, 2019).
Although it was not possible to survey all of the research themes pursued in 2018/19 by the GSAS, these anecdotal examples indicated the success of the FDD "Best Practices" policy and the trend towards social justice in replacing scholarship. There continues to be "traditional" research at the GSAS (Colloquy, summer 2019); however, political "research" has now become acceptable.
Culture and Civility Decline from Students
The consequences of the rejection of merit, shown in figure 1, soon manifested in student behavior, which the administration dealt with in a new counseling service begun in June 2019. To quote the Dean and Associate Dean of Undergraduate Education, Amamda Claybaugh and Sindhumthi Revuluri, there has been "a generational change in..student needs and thinking..". The original approach by the Bureau of Student Counsel (BSC) was created by faculty legislation in 1947 to deal with returning WWII veterans by "accommodating the needs of largely white, male students" (Claybaugh, 2019). Dean Revuluri stated further that the student body is more diverse, sighting especially "neurodiverse students, who have distinct learning challenges", …"cognitive and learning issues such as "ADD, ADHD, dyslexia" as "legally identified disabilities" (Revuluri, 2019). To accommodate this new culture an entirely new structure was created to replace the BSC. It was formally introduced on June 3, 2019, and called the Academic Resource Center (ARC). Its initial purpose at the undergraduate level is to develop in students "time management, reading and retention skills", and "how to do problem sets and prepare for exams". In the GSAS the focus is on "how to conduct research, prepare to teach and work with an advisor" (Revuluri, 2019). Finally, "If ARC staff start seeing a number of students from one course appear with similar challenges, they can reach out to the course head to suggest ways.. the course might be adapted". Dean Claybaugh summarized, "the ARC aims to.. help Harvard adapt to all of its students" (Claybaugh, 2019).
Three months later the editor of Harvard Magazine, John Rosenberg, reported in more detail on this creation of the ARC. He confirmed that the change in the student make-up from white male to "a more diverse population" was the reason for this new approach to student "counseling". He also stated that "Other forms of diversity have cropped up, also  -among them, the nation's commitment to understanding and addressing the learning challenges of students formerly caste aside but now known to be coping with ADD, ADHD, dyslexia, and other physical limitations, for which there are effective solutions". He also noted that "Among today's campus cohort, the gap in K-12 preparation is - much wider –than for their mid-century predecessors…the distinctions include different degrees of willingness…to accept mental health counseling…which can be seen as socially stigmatizing. More broadly, today's students at Harvard..differ in another way not associated with familiar ethnic, racial or socioeconomic metrics….many undergraduates seem.. underdeveloped emotionally. Advisors and tutors tell stories about binge drinking and sexual hookups that have nothing to do with classroom challenges or grades.." (Rosenberg, 2019).
Conclusion
The cost of diversity in enrollment continues to escalate throughout the rest of the university. One consequence of "Diversity and Inclusion" by universities was suggested by Daniel Henninger in his 2019 Wall Street Journal article, "Parents Gone Wild", about their purchase of admission to Harvard for their children. It gives permission to parents "to game an already gamed system". "An informal quota system" from a "liberal-progressive black box" allowed parents to do the same (Henninger, 2019). However, the greatest damage from 50 years of "diversity", now social justice, in academia was that it necessarily included the rejection of merit, Academic Freedom, scholarly investigation and civil culture. The abandonment of these first principles of academia is the tragedy and cost of social justice in universities today, and occurs not withstanding a successful discrimination law suit by Asian students. The only action with sufficient impact to change this corrupt system is a law suit by a white male student group in a neutral venue. A law suit based upon figure 1, the written data upon which it is based and the district judges ruling in the Asian student suit would challenge all aspects of the current university social justice condition.
---
References
1. Rosenberg, J. S., 2019: Board of Incorporators, 1924. March-April Harvard Magazine, Pp. 2.
2. Editors Harvard Magazine, 2019: Echoes of 1969. March-April Harvard Magazine, 2019, pp. 53.
3. Bethel, J., 1979: The University in Trial. March-April Harvard Magazine, 1979. Pp. 24.
4. American Association of University Professors, 1940: Statement of Principles on Academic Freedom and
Tenure. Updated in 1966. tenure>.
5. Magna Charta Universitatum, 1988: www.cicic.ca/docs/bologna/magna.charta.en.pdf.
6. Seaver, George, 2018: Civil Rights in an Extended Republic. Journal of Interdisciplinary Studies, Vol. XXX, Nov. 2018.
7. Feingold, Henry, 1992: A Time for Searching. The Jewish People in America. John Hopkins Press, Baltimore.
8. Jewish Virtual Library, 2017: Anti-Semitism in the U.S.: Harvard's Jewish Problem. www.jewishvirtuallibrary.org/harvard-s-jewish-population
9. PBS, 2019: History of the SATs: A Timeline. Nov. 2015. www.pbs.org/wgbh/pages/frontline/shows/sats/where/timeline.html.
10. Taylor, S. 2018: Racial Preferences on Trial as Harvard goes to Court. Weekly Standard, October 12, 2018.
11. Pusey, N., 1969: Harvard President's Annual Report for 1969. Pp.81 – 94. .
12. Bok, D., 1987: Harvard President's Annual Report for 1987.
13. Summers, L., 2005: Harvard University Fact Book: Degree Student Head Count and Enrollment by Ethnicity, Fall 2004 .
14. Faust, D., 2018: Harvard President's Annual Report for 2018. www.fas.harvard.edu/files/fas/files/fas_deans_ar_2018_final_2018.09.28.pdf.
15. Unz, R., 2019: Harvard Hoisted on its Own Petard. Academic Questions, 32(2), Summer, 2019. Pg. 213.
16. Radcliffe, 2019: Growing Consolidation with Harvard. .
17. Economist, 2014: Grade Expectations. www.economist.com/united_states/2014/08/12/grade_expectations.
18. S. Revuluri, 2019: Bureau of Study Counsel R.I.P. Harvard Magazine, June 3, 2019. .
19. Butcher, K., P. McEwan and A. Weerapana, 2014. The Effects of an Anti-Grade Inflation Policy at Wellesley College. Jnl. Econ. Persp., 28(3). Pp. 189 – 204.
20. Mortara, A., 2019: John Harvard Journal. Harvard Magazine, Jan.-Feb., 2019. Pp. 17.
21. Rosenberg, J.S., 2019: Harvard Hoist on its own Petard. Academic Questions, Vol. 32, No. 3. Pg. 213.
22. Bethel, J., 1979: The University in Trial. March-April Harvard Magazine, 1979. Pp. 24.
23. Rosenberg, J. S., 2006: Summers in Summary. September-October Harvard Magazine, 2006. Pp. 60.
24. Bok, D., 1974: President's Annual Report for 1972-1973. .
25. Rudenstein, N., 1993: President's Annual Report for 1991 to 1993. Viiif.lib.harvard.edu/manifest/view/drs:427018329$4i>.
26. John Harvard Journal, 2005: "At Odds", Faculty Meeting Minutes from Feb. 15th and Mar. 15th. May-June Harvard Magazine 2005. Pp. 2, 3.
27. Summers, L., 2005: "Women in Science" speech. Conference on Women in Science, January 14, 2005. John Harvard Journal, "At Odds", May-June Harvard Magazine 2005. Pp. 1.
28. Wisse, R. , 2005: "At Odds", Faculty Meeting, Feb. 5th. May-June 2005 Harvard Magazine. Pp. 3.
29. Houghten, J., 2005: "At Odds", Letter to Harvard Faculty. Feb. 17, 2005. May-June 2005. Pp. 5.
30. Pinker, S., 2005: "At Odds", Faculty Meeting, Mar. 15th. May-June 2005 Harvard Magazine. Pp. 9.
31. Thernstrom, S., 2005: "At Odds", Faculty Meeting, Mar. 15th. May-June 2005 Harvard Magazine. Pp. 8.
32. Summers, L., 2006: John Harvard Journal. A Presidency's Early End. May-June 2006 Harvard Magazine. Pp 1.
33. Fisher, L., 2018: Echoes of 1969. Mar.-April 2019 Harvard Magazine. Pp. 56.
34. Kirby, W., 2005: Letter to Faculty on Tenure Track. Sept.-Oct 2010 Harvard Magazine. Pp. 50.
35. Editors Harvard Magazine, 2010: The New Tenure Track. Sept.-Oct. 2010 Harvard Magazine. Pp. 48.
36. Faculty Development and Diversity (FDD), 2019: Building a Diverse Pool of Applicants. .
37. Editors Harvard Magazine, 2010: The New Tenure Track. Sept.-Oct. Harvard Magazine. Pp. 50.
38. Bolotnikova, M., 2018: $10 Million for a More Inclusive Faculty. www.harvardmagazine.com/2018/03/diversity-task-firce-report.
39. Rosenberg, J., 2018: Claudine Gay Named Dean of Faculty of Arts and Sciences. www.harvardmagazine.com/2018/07/new-fas-dean-claudine-gay.
40. Harvard Corporation, 2011: Report to the University Community. "The Corporation's 360-year Tune-Up", Jan.-Feb. 2011 Harvard Magazine. pp. 2.
41. Rosenberg, J. S., 2016: Harvard Reforms Overseer Elections. September 1, 2016 Harvard Magazine. .
42. Bolotnikov, M., 2019: Harvard's Admissions Process Upheld. Harvard Magazine, Nov.-Dec., 2019, pgs. 22, 21.
43. John Harvard Journal, 2019: Admissions on Trial. Jan.-Feb. Harvard Magazine, pg. 17.
44. Rosenberg, J. S., 2019: New Faculty Faces. May-June Harvard Magazine, pg. 27.
45. Singer, J., 2019: New Faculty Faces. May-June Harvard Magazine, pg.25.
46. Rosenberg, J. S., 2019: Debating Diversity. May-June Harvard Magazine 2019, pg.25.
47. Gibson, Lydialyle, 2019: Protester Disrupt the President. Harvard Magazine, June 28, 2019. www.harvardmag.com/2019/04/president-Bacow-andBridoct-Terry-long-speak-atharvard-institute-of-politics
48. Singer, J., Faculty Development and Diversity (FDD), 2019: Meet Harvard's New Faculty. .
49. Dench, E., 2019: Dean of GSAS Semi-Annual Report. Colloquy Magazine, Winter 2019. Pp. 1.
50. Snibbe, K., 2019: FAS Announces Ethnicity, Indigeneity and Migration Positions. The Harvard Gazette,
June 17, 2019.
51. Colloquy, 2019: Harvard Graduate School of Arts and Sciences Magazine. Summer, 2019.
52. Claybaugh. A. and S. Revuluri, 2019" Bureau of Study Counsel R.I.P. Harvard Magazine, June 3, 2019 .
53. Rosenberg, J. 2019: A Chill in the Air. September-October 2019, Harvard Magazine. Pg. 5.
54. Henninger, D., 2019: Parents Gone Wild. Wall Street Journal. March 20, 2019.
---
George Seaver is an independent researcher, president of SeaLite Engineering, and long-time member of NAS.
Image: Public Domain